Disaster Response

Disasters can happen anytime and anywhere. In these moments of darkness and trial, the Knights has always been there bringing immediate aid and comfort to those people affected.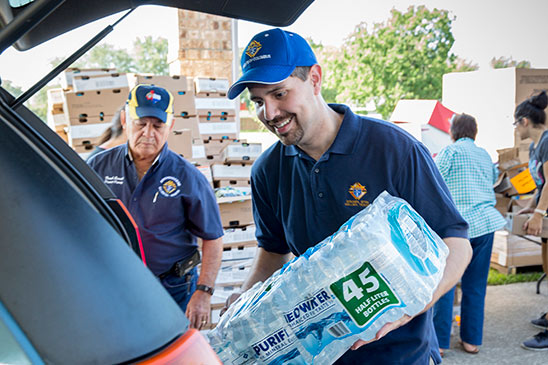 The Knights of Columbus Disaster Relief fund provides Knights in areas where disasters have hit. Local Knights, in coordination with jurisdiction and Supreme Council leadership, activate a network to provide necessary support to these affected areas. Every donation made to the fund enables Knights to support the immediate needs of their families, parish and the community. This support often includes providing food and water, hot meals, clean up materials and other necessities. This fund provides support to all areas in North America and internationally where there are active Knights councils.
Most recently the need has been seen in the unprecedented destruction in the Bahamas from Hurricane Dorian and the expected impact to the Southeast coast of the US.
Please donate today to ensure we are able to help victims of disasters as soon as they occur. One hundred percent of the proceeds will go directly to relief efforts. These efforts includes providing immediate access to food, clean water, shelter and other necessities.
One hundred percent of the funds raised go directly to relief efforts.
For Donations by Check
Make Checks Payable To: "Knights of Columbus Charities"
Kindly specify "Disaster Relief" on the memo line of your check.
For Donations by Check in USD: Send To:
Knights of Columbus Charities, Inc.,
PO Box 382154,
Pittsburgh, PA
15251-8154
Knights of Columbus Canada Charities
PO Box 7252 Station A
Toronto, ON M5W 1X9
For questions regarding a donation, please contact us at 800-694-5713 M-F between the hours of 8:00 a.m. and 4:30 p.m. EST or email us.
A History of Being There in Times of Disaster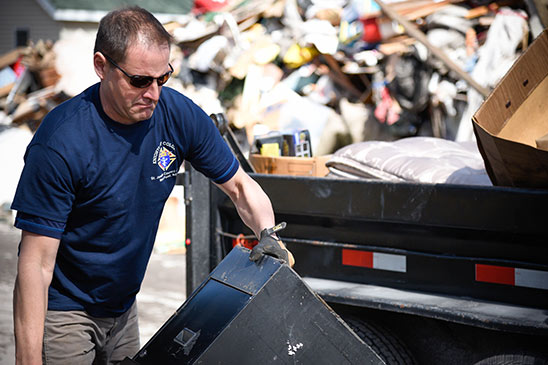 The Knights of Columbus has a long history of lending a helping hand in times of distress.
The Order was one of the first organizations to provide financial support to families of fallen first responders following the terrorist attacks on the United States on Sept. 11, 2001. Since then the Knights have also had a strong response to natural disasters.
The Knights of Columbus also led a multimillion-dollar recovery effort in Louisiana in the aftermath of Hurricane Katrina. In addition, Knights were on the ground with supplies in a matter of hours after Superstorm Sandy devastated the Eastern seaboard.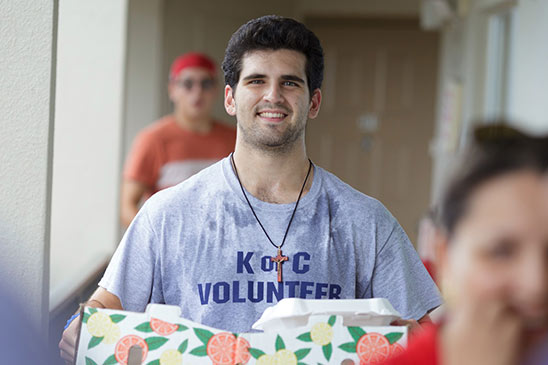 When Typhoon Haiyan struck central Philippines in late 2013, the Supreme Council approved immediate humanitarian relief.
And, in 2017, which will be remembered for the particularly fierce Atlantic hurricane season that devastated large parts of Florida, Texas, Puerto Rico and the U.S. Virgin Islands the Knights were there with water, warm meals and money to help with the needs of those most affected.
Knights were there then, and we will be there as disasters continue, carrying forth Father McGivney's vision of helping those most in need.